Schlager- & Partyband "STERNENLICHT"
Die Schlager- & Partyband aus Tirol
[1]
Das Trio STRENENLICHT aus Tirol darf sich hier vorstellen. Joe, Andy und Marina - ein Trio der besonderen Art! Von Schlager-, Pop- und Rocksongs, Evergreens und Jazz-Standarts ist bei ihnen alles im Programm. Titel aus der ganzen Welt, egal ob auf deutsch, englisch, französisch, italienisch oder teils schweizer Mundart sind fix im Repertoire verankert und ebenso vielseitig ist die Wandelbarkeit bei verschiedenen Events: Geburtstage, Hochzeiten, Jubiläen, Partyabende, Firmen-, Weihnachts- und Oktoberfeste sowie Silvesterbälle, Gala-Veranstaltungen oder Open Air Events - dieses Trio hat für jede Veranstaltung die richtige Musik und sorgt somit für gute Stimmung und viel Spaß!
Repertoire
0-9 99 Luftballons Nena 3000 Jahre (Remix) Paldauer Über den Wolken Reinhard Mey a Aber dich gibt's nur einmal für mich Die Flippers Achy Breaky Heart Billy Ray Cirus Against all odds Phil Collins Ain't nobody Felix Jaehn Remix Ain't no sunshine Eva Cassidy Ai se eu te pego Michel Tel All about that bass Megan Trainor All about that bass Postmodern Jukebox All by myself Céline Dion All of me John Legend Alpenrose Polo Hofer Always on my mind Elvis Presley Amarillo Roberto Blanco Amor Julio Iglesias Angel Sarah McLaughin A night like this Caro Emerald Anita Costa Cordalis Another Brick in the Wall Pink Floyd An Tagen wie diesen Tote Hosen Aqua de Beber Sophie Milman A sky full of stars Coldplay Atemlos Helene Fischer Atmosphere II Joe Marton Atmosphere Joe Marton Auf Uns Andreas Burani Autumn Leaves Diana Krall A wie Anna Al und Chris b Baila Morena Zucchero Bakerstreet Sax Gerry Raferty Bamboleo Gipsy Kings Barbados Die Flippers Beautiful Christina Aguilera Beautiful Day U2 Beautiful Sunday Daniel Boone Because you loved me Céline Dion Bergwerk Reinhard Fendrich Besame Mucho Julio Iglesias Billie Jean Michael Jackson Blue Coffee Chris Rea Blue Hawaii Die Wickinger Blue Sweat Shoes Elvis Presley Blumen im Asphalt Laura Wilde Bonnie & Clyde Duo Fantasy Braungebrannte Haut Nick P Budapest George Ezra Buona sera signorina Rocco Granata Bye bye love Everly Brothers c California Blue Roy Orbinson Candyman Christina Aguilera Can't help fallin' in Love Harley Reinhart Celebration Kool and the Gang Change the World Eric Clapton Chianti Wein Captain Cook Cinderella Baby Drafi Deutscher Comment ca va The Shorts Cool Kids Echosmith Cordula Grün Grubertaler Corina Die Paldauer Country Roads Hermes House Band Cowboy und Indianer Olaf Henning Crazy Julio Iglesis Crazy Love Musikapostel Crying at the Discotheque Hermes House Band Cry me a river Michael Buble C'est la vie Joe Marton d Dancing Queen ABBA Danke Marina Ferdinand Darling Duo Fantasy Das Kufstein Lied Karl Ganzer Das rote Pferd Marcus Becker Delilah (3/4) Tom Jones Dem Land Tirol Die Grubertaler Der Gockerle is da Horst Chmela Der Typ neben ihr Kim Merz Dich erkenn' ich mit verbundenen Augen Bata Ilic Die Alte Musikbox Captain Cook Die Hölle morgen früh Helene Fischer Die immer lacht Grubertaler Dini Seele la bambäla la Die Partyhelden Dolce Vita Ryan Paris Don't be cruel Elvis Presley Don't know why Norah Jones Don't speak No Doubt Don't stop the music Rihanna Donna Blue Andreas Fulterer Don't worry Madcon Dream a little dream of me Mama Cass Eliot Dreamer Ozzy Osbourne Du entschuldige i kenn di Peter Cornelius Du hast im Schlaf seinen Namen genannt Mario und Christoph Du schaffst das schon CLUBBB3 Déja Vu Joe Marton e Einen Stern DJ Ötzi Ein Leben Lang Emotion Ein Teil von meinem Herzen Jonatan Zelter Ein weißes Boot Duo Fantasy Endstation Sehnsucht Duo Fantasy Entetanz International Everybody loves somebody Dean Martin Eviva Espania International f Feel Robbie Williams Fever Peggy Lee Fields Of Gold Eva Cassidy Flaschenpost Duo Fantasy Fliegerlied Juzi Fly me to the moon Diana Krall Für Gabi tu ich alles Gerd Böttcher Fürstenfeld STS g Ganz in weiß Roy Black Garden Party sax Mazzoforte Geboren um dich zu lieben Nick P Geiles Leben Glasperlenspiel Get Lucky Daft Punk Gigolo Irving Caesar Goodbye my Love Demis Roussos Green green Gras Tom Jones Griechischer Wein Udo Jürgens Guantanamera Inner Circle h Half a minute Matt Bianco Halleluja Alexandra Burke Hangover Taio Cruz Happy Pharell Williams Have you ever seen the rain Creedence Clearwater Heal the World Michael Jackson Hello Adele Hello Again Howard Carpendale Hello Lionel Richie Hello Mary Lou International Help yourself Tom Jones Heute Nacht Maite Kelly Hey Baby DJ Ötzi Hey brother Avicii Hey Wickie Die Fischer Highway to hell AC/DC Hit the road jack Ray Charles Hotel California Eagles How deep is your love Beegees Hulapalu Andreas Gabalier Human The Killers i I can't stop loving you Dean Martin Ich bau dir ein Schloss Jürgen Drews Ich bin solo Mickie Krause Ich brauch' mehr von dir Duo Fantasy Ich fang dir den Mond Andreas Martin Ich komm heut nacht mit Rosen zu dir Oliver Haidt Ich sterb' für Dich Vanessa Mai Ich träum' von dir Vanessa Mai Ich war noch niemals in New York Udo Jürgens Ich will keine Schokolade Trude Herr Ich will sie immer noch Atlantis If I ain't got You Alicia Keys I follow Rivers Lykke Li I just called to say I love you Stevie Wonder Immer wieder dieses Fieber spür'n Helene Fischer Im Wagen vor mir Henry Valentino & Uschi Intermezzo Joe Marton In the mood Glen Miller In the Night Joe Marton I see Fire Ed Sheeran I sing a liad für di Andreas Gabalier I still havn't found what I'm looking for U2 It's a real good feeling David Hasselhoff It's my life Bon Jovi It's now or never Elvis Presley Italienische Sehnsucht Oliver Frank I will Survive Gloria Gaynor j Ja ich will Andrea Berg Jambalaya The Carpenders Jetzt erst recht CLUBBB3 Je veux Zaz Joana Roland Kaiser Johnny Däpp Lorenz Büffel Jolene Dolly Parton Josephine Chris Rea Jubel Sax Klingande Just the way you are Barry White k Keep on smiling Tom Jones Killing me softly Fugees Kiss me quick Elvis Presley Kleine Kneipe Peter Alexander Kuschel dich in meine Arme Vickinger l L-O-V-E Joss Stone La Bamba ABBA Lady hear me tonight Modjo LADY IN RED Chris de Burg La Isla Bonita Madonna LA PALOMA (RUMBA) Instrumental La vie en Rose Edith Piaf Lean on Postmodern Jukebox Lemon Tree Fools Garden Let it be Beatles Let your love flow Bellamy Brothers Let's twist again Chubby Checker Leuchtturm Nena Liebeskummer lohnt sich nicht Siw Malmquist Life for Rent Dido Life is Life Opus Lilly was here Instrumental Living next door to Alice Gompie Long Train Running Dubie Brothers Love is in the air Jon Paul Young Love me tender Elvis Presley Lullaby of birdland Ella Fritzgerald m Ma Cherie DJ Antoine Macho Macho Reinhard Fendrich Mamacita Marc Metlock Mambo No.5 Lou Bega Mandy Barry Manilow Manuela GG Anderson Marathon Helene Fischer Marina Rocco Granata Mas Que Nada Black Eyed Peas Meine Sonne bist du Semino Rossi Mein Herz es brennt Beatrice Egli Mein Tirol ich vermisse dich Die Schürtzenjäger Mendocino Michael Holm Mercy Duffy Mi Canto de Amor Sternenlicht Mit keinem Andern Helene Fischer Moon River Instrumental Moviestar Harpo Mr. Saxobeat Andrea Stan My way Frank Sinatra n New York Frank Sinatra o Ob la di Beatles O happy Day Sister Act Oh Julie Shakin Stevens Ohne Krimi geht die Mimi nie ins Bett Bill Ramsey ONE DAY SAX Instrumental One Way Ticket Eruption On The Beach Chris Rea p Petit Fleur (Tango) Instrumental Pokerface Lady Gaga Pon de replay Rihanna Pretender Queen Pretty Woman Roy Orbinson Proud Mary Tina Turner Purple Rain Prince q Que sera sera Hermes House Band r Raindrops keep fallin' Jonnny Mathis Reality Lost Frequencies Red River Rock'n'Roll Instrumental Rehab Rihanna Release me Elvis Presley Rendevous Joe Marton Revolution Joe Marton Ring of fire Jonny Cash Road to Hell Chris Rea Rock & Roll is King Electric Light Orchestra Rock mi Heid nocht VoxxxClub Rolling in the Deep Adele Rote Lippen soll man Küssen Cliff Richard Rot sind die Rosen Semino Rossi s Samba de Janeiro Bellini Santiago Blue Amigos Saragosas Band Medley Saragosas Band Satellite Lena Save the last dance for me Michael Buble Schatzi schenk mir ein Foto Mickie Krause Schenk mir dein Herz Höhner Schickeria Spider Murphy Gang Schieß' mich doch zum Mond Roger Cicero Schnell Polka Slavko Avsenik Schwarze Rose Ibo Sealed with a kiss Jason Donovan See you later Alligator Bill Halley Sempre, sempre Al Banco & Romina Power Sentimental Journey Instrumental Sexbomb Tom Jones Sieben Leben für Dich Maite Kelly Sie liebt den DJ Michael Wendler Sie liebt ihn immer noch Marcus Luca Sierra Madre Schürzenjäger Simply the best Tina Turner Skandal im Sperrbezirk Spider Murphy Gang Skyfull Adele Slow Motion Instrumental Smoke Gets In Your Eyes Instrumental Smooth Operator Sade Sofia Alvaro Soler Solaris Joe Marton Some broken hearts never mend Don Williams Someone like you Adele Something Stupid Robbie Williams + Nicole Kidman Son of a preacher man Joss Stone Sorry seams to be the hardest word Blue So whats new Instrumental Spanisch eyes Engelbert Humperdinck Stand by me Ben E. King Stay with me John Legend Steirermann san very goad Die Stoakogler Stephan of the Ice Joe Marton Stranger on the Sh. Instrumental Strangers in the night Instrumental Stumblin' in Susi Quatro & Chris Norman Suddenly I See KT Tunstall Summer of 69 Bryan Adams Summertime Ella Fritzgerald Summerwine Natalie Avalon & Vile Valo Sunny (Funky) Bonny M Sunshine Reggeae Laid Black Sway Pussy Cat Dolls Sweat (a la la la la long) Inner Circle Sweet Caroline DJ Ötzi t Take my breath away Berlin Tangled Up Caro Emerald Tanz mit mir Die Vikinger Tausendmal belogen Andrea Berg Tears in Heaven Eric Clapton Teddy bear Elvis Presley Tequila Instrumental Thank you Dido Thank you for the music ABBA The girl from Ipanema Astrud Gilberto The Greatest Love Of All Instrumental The rythm of the night Hermes House Band The winner takes it on ABBA Tijuana Taxi Instrumental Time of my life Dirty Dancing Top of the World The Carpenders Tornero Anna Maria Zimmermann True Love Dean Martin Tulpen aus Amsterdam (3/4) Instrumental u Udo Jürgens Medley Udo Jürgens Umbrella Rihanna Und morgen früh küss ich dich wach Helene Fischer Uptown Funk Bruno Mars v Valerie Amy Winehouse Verdammt ich lieb dich Matthias Reim Viva la Vida Coldplay Vogel der Nacht Gerry w Wahnsinn Wolfang Petri Wake me up Avicii Walk of life Dire Straits Walzer Hitmix (Schweiz) Instrumental Warum hast du nicht nein gesagt Maite Kelly & Roland Kaiser Waterloo ABBA We are the champions Queen Weist du was du für mich bist Amigos Wenn die Wunderkerzen brennen Jürgen Drews Wenn du mir in die Augen schaust Duo Fantasy We will rock you Queen What a wonderful world Louis Armstrong When I Fall in love Nat King Cole When I find love again James Blunt When I need you Instrumental When I was your man Bruno Mars White Flag Dido Wie ein Feuerwerk Amigos Wolke 7 Vanessa Mai Wonderful Life Black y Yakety Sax Boots Randolph Yakety Sax Instrumental Yellow River Christie Yesterday Beatles YMCA Village People You're always on my mind Elvis Presley You're my Heart Modern Talking You're the one that I want Grease You are so beautiful Joe Cocker You drive me crazy Shakin Stevens You got it Roy Orbinson You Ten Sharp You'll be in my Heart Instrumental You're the first, the last, my everything Barry White You've Got A Friend Instrumental z Zieh dich an und geh Nockalm Quintett Zucker im Kaffee Erik Sylvester
Previous
Next
Band-Daten & Service

---
Maximale Spieldauer
5 Stunden
Minimale Bühnengröße
4 m2
Benötigte Aufbauzeit
1,5 Stunden
Funkmikro für Ansprachen
Ja
Eigene Lautsprecheranlage
Ja, für 500 Personen
3,5" Kabel für Handy / Laptop
Nein
Individuelles Bühnen-Outfit
Ja
Dinner-Musik »vom Band«
Ja
»Schönwetter-Events« mit Alternativ-Termin:
Nein
Interesse an Dauer-Engagements
Ja
Musiker & Instrumente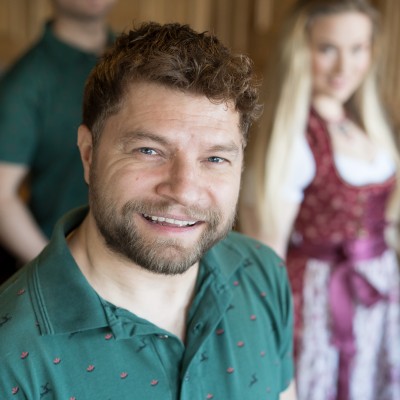 JOE MARTON
Keyboard/Piano/Drums/Akkordeon/Gesang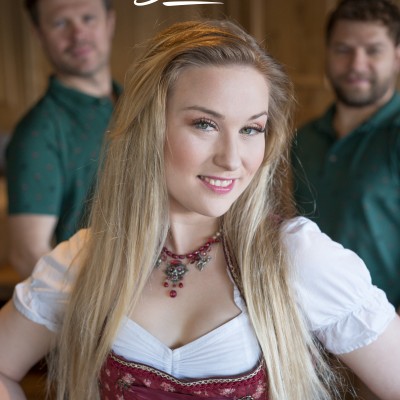 MARINA FERDINAND Marton
Gesang/Moderation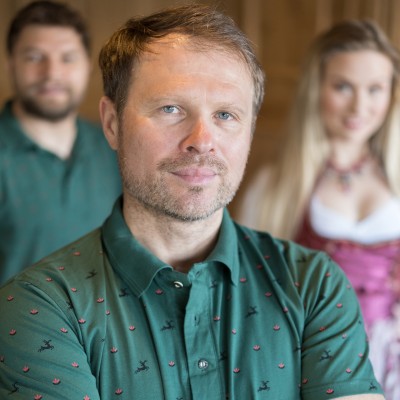 ANDY MATTY
Saxophon/Gitarre/Gesang
Schlager- & Partyband "STERNENLICHT" musiziert bei diesen Anlässen
• Apéro
• Hochzeit (Abend-Event)
• Hochzeit (Kirche)
• Hochzeit (Agape)
• Hochzeit (Standesamt)
• Silberhochzeit
• Goldene Hochzeit
• Faschingsball / Karneval
• Oktoberfest
• Après-Ski-Party
• Hotel-Lounge-Musik
• Gala
• Firmenfeier
• Weihnachtsfeier
• Vereinsabend
• Open Air
• Silvesterparty
• Straßenfest
• Tanzabend
• Zeltfest
• Stadtfest
• Dorffest
• Jubiläumsfest
• Vernissage
• Vorband
• Sommerfest
• Seniorentanz
• Brunch Musik
• White-Night-Party
• Jubiläum
• Taufe
• Trauerfeier
• Mess-Gestaltung
• Werbe-Event
• Frühschoppen
• Sponsions-/Promotionsfeier
• Dauer-Engagement
• Feuerwehrfest
Auftrittsgebiet

---
Österreich
Vorarlberg
Tirol
Salzburg
Oberösterreich
Niederösterreich
Wien
Burgenland
Steiermark
Kärnten
Deutschland
Baden Württemberg
Bayern
Berlin
Brandenburg
Bremen
Hamburg
Hessen
Mecklenburg-Vorpommern
Niedersachsen
Nordrhein-Westfalen
Rheinland-Pfalz
Saarland
Sachsen
Sachsen-Anhalt
Schleswig-Holstein
Thüringen
Schweiz
Zürich
Bern
Luzern
Uri
Schwyz
Obwalden
Nidwalden
Glarus
Zug
Freiburg
Solothurn
Basel-Stadt
Basel-Landschaft
Schaffenhausen
Appenzell Ausserrhoden
Appenzell Innerrhoden
St. Gallen
Graubünden
Aargau
Thurgau
Tessin
Waadt
Wallis
Neuenburg
Genf
Jura
Direkte Terminanfrage an Schlager- & Partyband "STERNENLICHT"
Für die Terminanfrage entstehen keine Kosten!
Wir bitten einige Detailangaben zum geplanten Event bekanntzugeben, damit wir Ihnen ein perfektes Angebot unterbreiten können. Vielen Dank!